Shabbat Services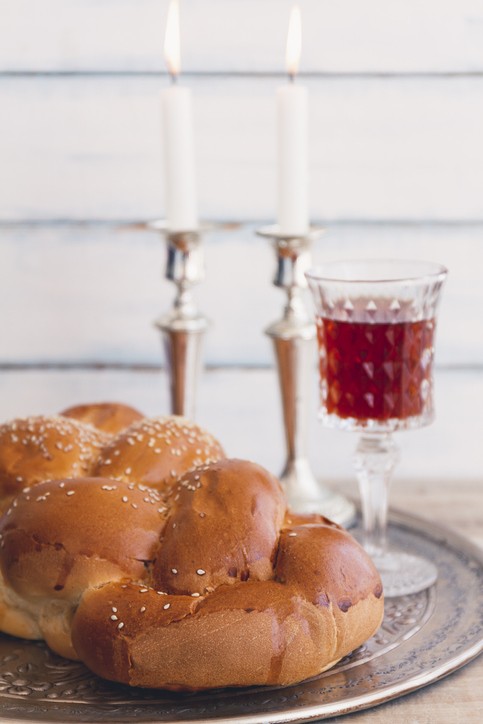 Weekday Minyan Times
Shacharit
6:45 AM | Monday - Friday
Mincha/Maariv
6:45 PM | Sunday - Thursday Mincha/Maariv
Family Tashlich
Sunday, September 25th at 10:00 AM - 12:00 PM
Children's Tashlich Program at the home of Leah and Eric Roush (121 St James Drive, Piedmont)
Selichot
Daily Selichot after Maariv
Kiddush
This week's Kiddush is sponsored by Ilana Friedkin and Reed Bennett in honor of the anniversary of their son Aaron's Bar Mitzvah.
Interested in sponsoring a Kiddush? Please email events@bethjacoboakland.org.
Click here for more details about Kiddush sponsorship.
*All Kiddushes are dairy (or pareve) unless otherwise noted.
Shabbat shuva (Parshat haazinu)
Friday, September 22
6:45 PM | Mincha / Kabbalat Shabbat / Maariv.
6:47 PM | Candle lighting
Saturday, September 23
9:00 AM | Shacharit
9:59 AM | Latest Time to Say Shema
11:00 AM | Shabbat Shuva Drasha (Extended Length) by Rabbi Albert on "Neshama Yeteira: A Shabbat Gift"
6:30 PM | Mincha/Maariv (including learning with Rav Shua)
7:44 PM | Havdala / Shabbat is Over
YOM KIPPUR
Sunday, September 24 (Erev Yom Kippur)
Volunteers Requested for Yom Kippur Turnover after 8:00 AM Shacharit.
Don't Forget to Perform the Custom of Kaparot.
10:00 AM - 12:00 PM | Children's Tashlich Program at the home of Leah and Eric Roush
3:00 PM | Early Mincha (with Viduy for Erev Yom Kippur)
6:44 PM | Candle Lighting / Fast Begins
6:45 PM | Kol Nidrei
6:45 PM – 9:00 PM | Childcare
Monday, September 25 (Yom Kippur)
8:30 AM – 1:30 PM | Morning Services
9:45 AM – 1:30 PM | Youth Groups and Childcare (8:45 AM drop-off with advance sign-up)
10:30 AM (Approx.) | Yizkor
--BREAK—
4:00 PM – 5:00 PM | Greatest Hits of Yom Kippur Explanatory Service (Outdoor Courtyard)
4:55 PM | Mincha
5:45 PM – 7:45 PM | Childcare
6:10 PM | Ne'ila
7:41 PM | Maariv / Fast Ends
7:50 PM | Break Fast To-Go
Coffee, Cooki

es and Kabbalah on Sunday mornings
Join Eliezer Cohn for a guided text study to help infuse spirituality into our daily lives.
Sunday mornings after Minyan from 8:45 - 9:15 AM.
Shabbat Youth Activities
9:45-11:15, Shabbat Groups
We will be meeting in the Upstairs Social Hall for Bridge K-3rd Grade as well as the 4th-8th graders. We will also have Tot Shabbat in the outdoor space between the Gan and the Brick House. Check recent announcements regarding the shul's updated mask policies.
[Hiatus] Pirkei Avot in the Park - Kids Edition
Join our Banot Sheirut Racheli, Tamar, and Reut, together with Meiraz Mishnayot, every Shabbat afternoon at 4:00 PM at Crocker Highlands School Yard for singing and learning a different Mishnah about the Ethics of our Sages. Perfect for children aged 2-10 and their families.
Eruv is up this Shabbat!
For Eruv status and boundaries click Oakland Eruv
The Eruv is checked every Friday and the website is updated weekly.
Sun, September 24 2023
9 Tishrei 5784
Today's Calendar
Coffee, Cookies and Kabbalah

: 8:45am
Candle Lighting

: 6:45pm
---
Upcoming Programs & Events
---
Candle Lighting
Havdalah
Erev Yom Kippur
View Calendar
Zmanim
Alot Hashachar
5:40am
Earliest Tallit
6:11am
Netz (Sunrise)
6:58am
Latest Shema
9:59am
Zman Tefillah
11:00am
Chatzot (Midday)
1:01pm
Mincha Gedola
1:31pm
Mincha Ketana
4:32pm
Plag HaMincha
5:47pm
Candle Lighting
6:45pm
Shkiah (Sunset)
7:03pm
Tzeit Hakochavim
7:42pm
More >>
Sun, September 24 2023 9 Tishrei 5784