Announcements & Times
Weekday Minyan Times
Mornings
8:00 AM | Sunday
6:45 AM | Monday-Friday
We will have Coffee and Biscotti at Monday and Thursday morning Minyans going forward as a thank you to those who participate in our daily services.
Evenings
5:10 PM | Sunday Mincha/Maariv
6:45 PM | Monday-Thursday Maariv
Services at Beth Jacob
Alameda County recently lifted its local masking Health Officer Order and re-aligned with the State's Face Masking Guidance.
In keeping with those local and state guidelines, Beth Jacob will no longer require masks indoors. The Reopening Committee notes that COVID is still circulating at high levels in our communities and everyone should exercise caution.
The Committee strongly recommends wearing a mask in indoor public settings, including the Beth Jacob Sanctuary and Upstairs Social Hall, to protect the wearer and those around them from infection and long COVID.

Tu B'Shevat Platter-Making with the Banot
Prepare for Tu B'Shevat with our Banot by creating a fruit platter, for your own Tu B'Shevat seder or to gift to others. Meeting Saturday night, February 4th at 7:30 at the home of Nili and Raphi Shorser.
RSVP to Rav Shua to confirm attendance and receive the address.

February Lecture Series with rav shua: The Jewish Family and Modern Technology
Meeting Tuesdays, Feb 7th, 21st, 28th, at 7:00PM, this series will meet in person at Beth Jacob, with a call in option at this link.

While Jewish continuity is a millennia old project, advances in modern medicine and biotechnology have opened new avenues towards making a family. Should we embrace any and all means towards those ends or ought we pause to think about our manipulations of the fundamentals of life? We will cover genetic testing and engineering, surrogacy and family ties, as well as what are our moral responsibilities to consider in bringing children into this ever complicated existence.
Feb. 7th - Paternity: Is there more to fatherhood than Hand-me-down genes?
Feb. 21st - Maternity: When it takes a village... Who is the Mother?
Feb. 28th - Family: Having kids... in this economy? Climate Anxiety and Child Rearing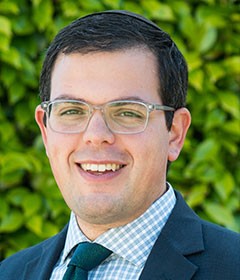 Lunchtime

Talmud
Lunchtime Talmud returns in person at the home of Allison and Paul Weiss: 906 Trestle Glen Road. It's a great time to return to seeing your Talmudic friends in person. The class will continue as a hybrid with the regular Zoom link available for those who cannot be in-person. Click here to join.
Our weekly Talmud shiur, 30 years in the running, still makes learning Talmud feel fresh for both beginners and those with experience. This year, we are tackling Masechet Gittin, discussing the laws of religious divorce, witnesses, and rabbinical courts.
Parsha and Potato Kugel with Rav Shua
Every Thursday at 7:00 PM after evening services at Beth Jacob, we'll dig into our favorite Torah portions as well as fresh potato kugel in this new weekly class that explores the Torah portion through traditional commentators.

Coffee, Cookies and Kabbalah on Sunday mornings
Join Eliezer Cohn for a guided text study to help infuse spirituality into our daily lives. Sunday mornings after Minyan from 8:45 - 9:15 AM.
On hiatus this week.
​​​​​​​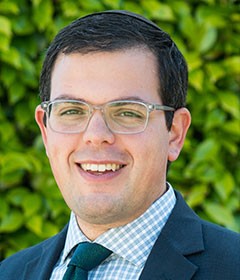 Daily Divrei Torah
Short Divrei Torah on the Parsha by Rabbi Albert follow every morning service, and Rav Shua shares five-minute explanations of our prayers after every weekday Maariv service.
Save the Dates
Shabbat February 3rd & 4th: Community Shabbat Dinner and Shabbaton with Rabbi Judah Dardik
Sunday, February 5th: Tu Bishvat Seder with Banot Sheirut Doron, Noemie, and Tal
Shabbat February 18th: Beth Jacob Cholent Bowl Cooking Competition
March 19th: Annual Gala- Attend BJC's annual gala - the event of the year! You won't want to miss signing up for all the social happenings, gatherings and much more!
Wanna donate? Contact Slavic Teplitsky at slavicteplitsky@gmail.com. Wanna help? Contact Deborah Sosebee at deborah@sosefam.com.
Shabbat March 25th: Shabbat with Jewish Bluegrass Band Kol Kahol with a Havdala Concert. Click here to listen to one of their original songs.

book club
All the meetings are on Zoom from 7:30-8:30.
Monday, Feb. 27th: The Finkler Question
Monday, April 24th: In Case We're Separated
All books are available in print through Robin Gluck at robindearborngluck@gmail.com Contact Robin for the Zoom link.
Happy reading!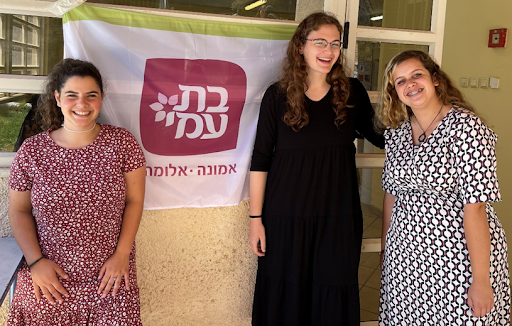 Meet our Banot Sherut: Noemi, Doron, and Tal!
We are so pleased to welcome three Banot Sherut to the Gan Mah Tov and Beth Jacob communities: Doron Shefer, Noemie Kohn and Tal Barron!
In addition to working with Gan teachers to enhance the level of Jewish and Hebrew learning at Gan Mah Tov, they will be working with Rav Shua to bring excitement to our youth programming across Shabbat and Chagim.
Please help us make our Banot feel welcome by inviting them to your home for meals and outings, especially for Shabbat and Chag. More info about them will be in the Beat and separate emails.

Click here for information about the new school year at Gan Mah Tov.
Meet Esther and Eliezer Cohn!
Esther and Eliezer are newlyweds and eager to join the Oakland community! Eliezer is starting a new position as the Director of Israel Advocacy for NCSY and will be working with Rav Shua to create an exciting calendar of middle school programming at Beth Jacob throughout the year! He is the CEO of Kooper Studios, a production company focusing on brand development and marketing. Esther will be working as the Jewish resource specialist for Gan Mah Tov.
Esther is originally from Cedarhurst, New York and more recently lived in Herzliya, Israel. She attended college for her BA in psychology and is working on her Master's in Social Work. Eliezer was born and raised in Overland Park, Kansas and has spent the last four years in Tel Aviv. Together, Esther and Eliezer, who will be living at BJC, are committed to strengthening Jewish tradition and spiritual life in all aspects of personal and community life.
BJC Office
The Beth Jacob Office is now open
8:00AM-4:00PM Monday-Thursday
8:00AM-3:00 PM, Friday
Sun, January 29 2023
7 Shevat 5783
Today's Calendar
Coffee, Cookies and Kabbalah

: 8:45am
---
Upcoming Programs & Events
---
This week's Torah portion is

Parshat Beshalach
Candle Lighting
Havdalah
Motzei Shabbat, Feb 4, 6:26pm
Tu B'Shvat
View Calendar
Zmanim
Alot Hashachar
5:55am
Earliest Tallit
6:26am
Netz (Sunrise)
7:16am
Latest Shema
9:49am
Zman Tefillah
10:40am
Chatzot (Midday)
12:22pm
Mincha Gedola
12:48pm
Mincha Ketana
3:21pm
Plag HaMincha
4:25pm
Shkiah (Sunset)
5:29pm
Tzeit Hakochavim
6:10pm
More >>
Sun, January 29 2023 7 Shevat 5783