Announcements & Times
Weekday Minyan Times
Mornings
8:00 AM | Sunday
6:45 AM | Monday-Tuesday, Thursday-Friday
Evenings
6:45 PM | Sunday-Monday, Thursday Mincha/Maariv
Selichot will follow Maariv through Yom Kippur during the week.
Services at Beth Jacob
Alameda County recently lifted its local masking Health Officer Order and re-aligned with the State's Face Masking Guidance. In keeping with those local and state guidelines, Beth Jacob will no longer require masks indoors. The Reopening Committee notes that COVID is still circulating at high levels in our communities and everyone should exercise caution. The Committee strongly recommends wearing a mask in indoor public settings, including the Beth Jacob Sanctuary and Upstairs Social Hall, to protect the wearer and those around them from infection and long COVID.
2nd Annual aseret yemei teshuva concert
Sunday, October 2 from 8-9:30 PM: 2nd Annual Aseret Yemei Teshuva Concert with Noah Bar-Shain, Tani Polansky, and Rabbi Albert, who will offer inspiring songs to elevate our sense of connection to Hashem, the words of the Machzor, and the experience of Teshuva. Register here. Sign up early to guarantee a spot!
High holy days volunteers needed
It's that time of year again! We need help from volunteers to switch the Sanctuary over for the High Holy Days. No sign-up needed; just join us after 8:00 AM Shacharit (approximately 8:30) on Sundays October 2nd, and October 9th. Thank you for helping us prepare for the Yamim Noraim!
book club
All the meetings are on Zoom from 7:30-8:30.
Monday, Oct. 24 The Middlesteins by Jami Attendberg
Monday, Jan. 9th The Man Who Sold Air in the Holy Land
Monday, Feb. 27th The Finkler Question
Monday, April 24th In Case We're Separated
All books are available in print through
Robin Gluck at robindearborngluck@gmail.com.
Contact Robin for the Zoom link.
You can pick up a copy of The Middlesteins from
Robin Gluck's front porch. Please email Robin if you'd like a copy.
Happy reading!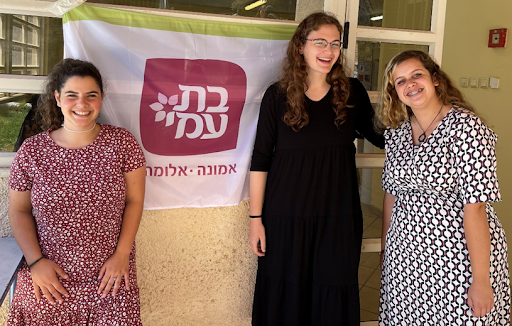 Meet our Banot Sherut: Noemi, Doron, and Tal!
We are so pleased to welcome three Banot Sherut to the Gan Mah Tov and Beth Jacob communities: Doron Shefer, Noemie Kohn and Tal Barron!
In addition to working with Gan teachers to enhance the level of Jewish and Hebrew learning at Gan Mah Tov, they will be working with Rav Shua to bring excitement to our youth programming across Shabbat and Chagim.
Please help us make our Banot feel welcome by inviting them to your home for meals and outings, especially for Shabbat and Chag. More info about them will be in the Beat and separate emails.

Click here for information about the new school year at Gan Mah Tov.
Meet Esther and Eliezer Cohn!
Esther and Eliezer are newlyweds and eager to join the Oakland community! Eliezer is starting a new position as the Director of Israel Advocacy for NCSY and will be working with Rav Shua to create an exciting calendar of middle school programming at Beth Jacob throughout the year! He is the CEO of Kooper Studios, a production company focusing on brand development and marketing. Esther will be working as the Jewish resource specialist for Gan Mah Tov.
Esther is originally from Cedarhurst, New York and more recently lived in Herzliya, Israel. She attended college for her BA in psychology and is working on her Master's in Social Work. Eliezer was born and raised in Overland Park, Kansas and has spent the last four years in Tel Aviv. Together, Esther and Eliezer, who will be living at BJC, are committed to strengthening Jewish tradition and spiritual life in all aspects of personal and community life.
Click here to join. See you there!
Lunchtime Talmud

with Rabbi Albert
Every Thursday, at noon on Zoom. Click here to join.
Erev Shabbat Drasha

with Rabbi AlberT: Elul Class Series: The Path of teshuva
I invite you to join me in a series of classes on "The Path of Teshuva" outlined by the Chassidic master, Reb Zusha of Anapoli, who outlined five distinct areas of focus embedded into the letters of the word תשובה itself.
We'll travel along this spiritual path on five consecutive Thursday evenings at 8:00 PM on Zoom: September 15th, 22nd and 29th.
BJC Office
The Beth Jacob Office is now open
8:00AM-4:00PM Monday-Thursday
8:00AM-3:00 PM, Friday
Mon, October 3 2022
8 Tishrei 5783
Upcoming Programs & Events
---
This week's Torah portion is

Parshat Ha'Azinu
Candle Lighting
Havdalah
Erev Yom Kippur
View Calendar
Zmanim
Alot Hashachar
5:49am
Earliest Tallit
6:19am
Netz (Sunrise)
7:06am
Latest Shema
10:01am
Zman Tefillah
11:00am
Chatzot (Midday)
12:58pm
Mincha Gedola
1:27pm
Mincha Ketana
4:23pm
Plag HaMincha
5:36pm
Shkiah (Sunset)
6:49pm
Tzeit Hakochavim
7:28pm
More >>
Mon, October 3 2022 8 Tishrei 5783