Announcements & Times
Shabbat Shalom!
Visit our

Shabbat Services

page for the full schedule.
If you are a BJC member, please log-in to your account to view

Rav Shua brick
BJC YOUTH EVENTS
---
10 Makkot (Plagues) Scavenger Hunt!

Set out on a Parsha-themed adventure as you seek the Ten Makkot (plagues). Find symbols of all ten plagues along with collectible cards proving that you have found them. Five are hidden in the Glenview area and another five in Crocker Highlands. (You can find half of them as you walk around on Shabbat and continue your search for the other five on Sunday.) Can you collect all ten??? Here is a link for the scavenger hunt details.

Tu BeShvat Communal Art Project

Rosh Chodesh Shvat was Thursday, which means.... TU BeSHVAT is soon! We are working on a Tu BeShvat art project and are looking for kids who would love to color/paint a page for a larger project. This will have to be limited to the first 30 kids who sign up, so email ravshua@bethjacoboakland.org to let us know if we should count you in!
We would like to take a moment to appreciate Rafi Brinner, Leah Marcus and everyone at the Jewish Federation who supports security efforts throughout our community. In addition to their constant guidance and direction, Beth Jacob has received a number of security-related grants from the Federation over the past few years. Thank you!
BJC OFFICE
Due to the extension of the Regional Stay-Home Order, the BJC office continues to be physically closed. We will be closed virtually as well on Monday, January 18th for Martin Luther King Day.
VOLUNTEERS NEEDED
Do you have time to give to the shul? Volunteers are needed on an on-call basis to make deliveries, stuff envelopes, and make check-in phone calls to members. Please let Lilly know if you are interested: 510.207.5130 or execdir@bethjacoboakland.org. We'd be so grateful for your help!
Morning Meaning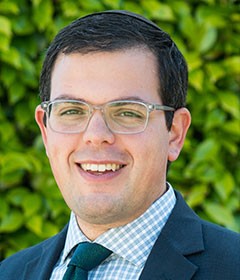 Our weekly morning learning continues at 8:00 AM with Rabbi Albert on Zoom. As we finish the Rambam's Hilchot Teshuva, we will continue with the following schedule:
Recipes for Prayer based on the Writings of Rav Dov Zinger
Sunday Morning at 8:00AM
Click Zoom to join the class!
Note: this is instead of the Monday evening class.
Mishnah of Tractate Brachot
Monday - Thursday morning at 8:00AM
Click Zoom to join the class!
Rav Soloveitchik on the Parsha
Friday morning at 8:00AM
Click Zoom to join the class!
These selections from the Rav's writings will allow us to explore some of the main ideas in his thought.
All virtual classes (other than Reading with Yonim) can be accessed with this Zoom link: https://zoom.us/j/4672710965
We can dedicate the learning in memory of those who would otherwise have Kaddish recited on their behalf, like for a Yahrzeit.
Weekly Reading with Yonim
Monday evening at 8:30PM
Tania Schweig is offering a powerful class every other Monday evening called "Learning with Yonim" where she connects with the thoughts and ideas that animated the life of her son, Yonim Schweig, z"l.
Click Zoom to join the class!
(password: 0HDS-7816!e)
Thu, January 21 2021
8 Shevat 5781
Today's Calendar
---
Upcoming Programs & Events
---
This week's Torah portion is

Parshat Bo
Candle Lighting
Havdalah
Motzei Shabbat, Jan 23, 6:12p
Tu B'Shvat
View Calendar
Zmanim
Alot Hashachar
5:59a
Earliest Tallit
6:30a
Netz (Sunrise)
7:21a
Latest Shema
9:50a
Zman Tefillah
10:41a
Chatzot (Midday)
12:21p
Mincha Gedola
12:46p
Mincha Ketana
3:15p
Plag HaMincha
4:18p
Shkiah (Sunset)
5:20p
Tzeit Hakochavim
6:02p
More >>
Thu, January 21 2021 8 Shevat 5781